1st European distributor in marine electronics since 2012
🌍 Worldwide Delivery
Back

Navigation

All makes of radar antenna

transponder AIS and accessory
Antifouling kit Protective paint for probes

The AIRMAR probe antifouling kit is a kit composed of a marine antifouling paint without biocide specially adapted to the protection of probes. But also all the material necessary for the application and the protection of your Airmar probe: abrasive pad, XDclean Wipe pre-treatment cleaner, application brush, paint/coating Foolfree Clear Coat finish.
Read more
Price before tax / DOM-TOM
47,42 €
Description
AIRMAR - ANTIFOULING KIT - PROTECTIVE COATING FOR PROBE
The Foulfree antifouling paint ensures long-lasting performance. Fouling on the surface of the transducers can reduce their sensitivity and degrade echo quality. Foulfree keeps the transducers clean and working at their best to ensure the sharpest sonar images possible. A 15 ml kit covers 0.1 m².
---

---

EASY TO APPLY ANTIFOULING

The abrasive pad is used to prepare the emitter face and the probe housing for the Foulfree probe coating.

XDclean is a pretreatment cleaner that is safe for probes. To optimize Foulfree's performance, it is essential to have a clean probe. XDclean solution comes pre-packaged with a wipe for easy cleaning.

A small, high quality brush is included to achieve the best possible result when applying the Foulfree coating.

This kit contains 15 ml of Foulfree Clear Coating, a non-toxic topcoat that provides a very smooth outer layer that marine organisms cannot adhere to, allowing your sensor to perform at its best.

---

---

TIPS AND TOOLS

For better adhesion of Foulfree Transducer Coating to plastic probes (polyethylene, polypropylene, nylon, etc.), it may be necessary to use 40 grit sandpaper - NOT included.

⚠️ DO NOT sand the housing or the emitting face of the probe, as this will damage it and void the manufacturer's warranty.

TOOLS NEEDED :


The Foulfree kit comes with tools included in the box, but you will need additional materials for application:

Disposable gloves
Eye protection
Clean and dry cloth
Adhesive tape
Probe fairing only - 40 grit sandpaper

---

---
MAIN POINTS :

Biocide-free paint
Certified quality by the manufacturers

CONTENTS OF THE BOX :

1 - Antifouling kit for probe
1 - Documentation in PDF
Your notice cannot be sent
Are you sure you want to report this comment?
Your report has been submitted and will be reviewed by a moderator.
Your report cannot be sent
Your comment has been registered. It will be published as soon as a moderator has approved it.
Your notice cannot be sent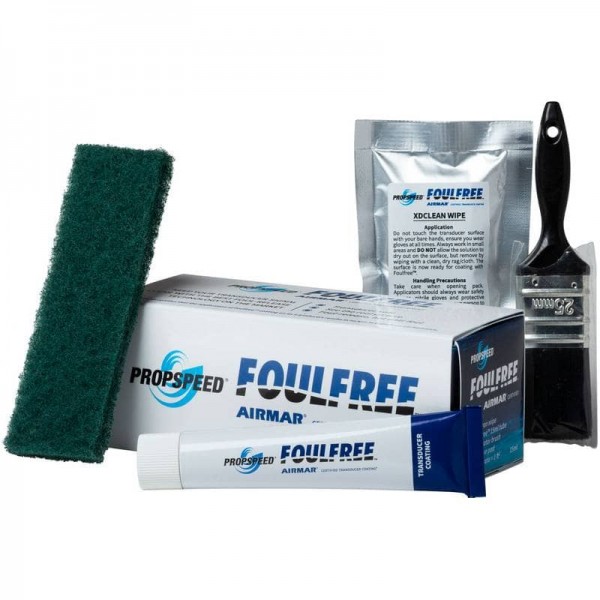 Antifouling kit Protective paint for probes