1st European distributor in marine electronics since 2012
🌍 Worldwide Delivery
Back

Navigation

All makes of radar antenna

transponder AIS and accessory
Stainless steel sliding probe holder

Universal support for transom. Composed of two stainless steel profiles, sliding on themselves, a plate for fixing the probe and a screw wheel to adjust the height of the probe.
Made in France, SEANOX slides consist of a part to be fixed to the boat and a mobile part extended by a universal fixing plate to receive the probe bracket.
Models :
Ref : 410030 ➔ 215 mm - 325 mm
Ref : 410050 ➔ 330 mm - 440 mm
Ref : 410080 ➔ 465 mm - 670 mm
Read more
Price before tax / DOM-TOM
40,75 €
Description
AMIAUD - SLIDING PROBE HOLDER - STAINLESS STEEL SLIDE
The Universal Sliding Support accepts all probe models on the market (except AIRMAR 1kW) thanks to its oblong windows, and enables fine adjustments to be made to obtain the best detection results... This holder also allows the probe to be completely removed. Specially designed for those who let their boat run aground at anchor.  
---

SEANOX REMOVABLE SUPPORT

The moving part of the slide is held in the lower stop by a stainless steel cage nut with 30mm of additional adjustment. This fine adjustment makes it possible to optimize probe height without disassembly. Once achieved, this adjustment is no longer lost, even when the probe is removed between two outings.

The entire probe can be removed by loosening the M8 plastic tightening knob when beaching, placing on a trailer or lifting into a dry port. This operation also eliminates the need to clean the probe of the algae or shellfish that usually settle on it, avoiding the need for antifouling.

---
Probe slide assembly tutorial
MAIN POINTS :

Material: Stainless steel
Fixation by screw
Telescopic slide 3 lengths to choose from
Recommended operating speed: 25 knots
Stainless steel plate with probe holder 84 x 54 mm, with oblong hole 21,5 x 6,5 mm

CONTENTS OF THE BOX :

1 - Sliding probe support
1 - M8 clamping wheel
1 - Documentation in PDF




Your notice cannot be sent
Are you sure you want to report this comment?
Your report has been submitted and will be reviewed by a moderator.
Your report cannot be sent
Your comment has been registered. It will be published as soon as a moderator has approved it.
Your notice cannot be sent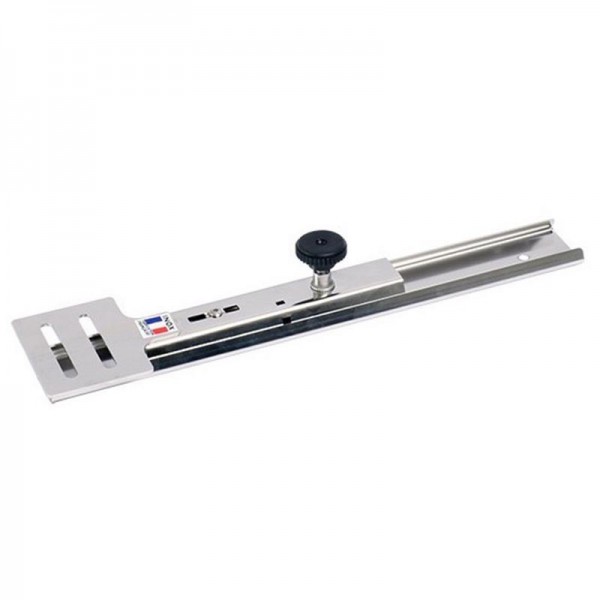 Stainless steel sliding probe holder