1st European distributor in marine electronics since 2012
🌍 Worldwide Delivery
Back

Navigation

All makes of radar antenna

transponder AIS and accessory
The Pacboat Start'R Black Anatec is the ideal starter boat for beginners, thanks to its compact size and amazing ease of use. The Anatec Pac Boat Start'R adopts a minimalist design focused on the essentials, with no superfluous extras or unnecessary gadgets.
Its main objective is to enable carp anglers to tension their lines and target their fishing areas precisely with effective baiting. Compared with its counterparts (the Monohull and Catamaran), the Anatec Pac Boat Start'R is smaller and lighter, making it extremely easy to transport and use .
Read more
Features
Price before tax / DOM-TOM
499,92 €
Features
Battery type

Lead

Priming tank capacity

1.5 kg

Engine type

Standard motor

Autonomy

60 / 80 minutes
Description
ANATEC - PAC BOAT START'R BLACK - COMPACT & LIGHTWEIGHT PRIMING BOAT
The Anatec PacBoat Start'R Black bait boat is equipped with a propeller motor capable of speeds of up to 1.6 m/second at full load. It is fitted with two rechargeable lead batteries (remember to recharge the battery for at least 20 minutes/month to avoid any deterioration) offering a range of around 60/80 minutes. Steering is by rudder, and control of the boat and its functions is by Devict DE-SR07 remote control with a range of 300m.
Thanks to its higher deck, the waterline has been increased, improving the boat's buoyancy. There's a 1.5 kg bait tank (for all types of bait) as well as a line transport tank. 
The Pacboat Start'R Anatec bait boat also features 2 ultra-powerful LEDs at the front, emitting white light, and 2 red LEDs at the rear. This makes it easy to spot the boat's position, even from a great distance, when used at night or in bad weather.
Finally, the Anatec Pac Boat Start'R Black is equipped with a digital battery charge indicator located on the side of the boat. Information is displayed in volts. When the indicator shows 6 volts, this means that the batteries need recharging.
---

---

Pack up to 1.5 kg of primer

The Anatec Pacboat bait boat features a rear-mounted bait tank with a capacity of 1.5 kg of bait.

The hatch can be opened by remote control, allowing controlled watering of the fishing area. This enables precise, targeted baiting.

The container can hold loads of up to 1.5 kg and can carry various types of groundbaits such as boilies, seeds, pellets or flours. It can also be used to transport a line assembly.

Other features:

Dimensions: 85 cm x 50 cm x 25 cm
Total weight: 4.5 kg 

---

---

Devict DE-SR07 remote control

The Devict DE-SR07 remote control uses 2.4 GHz technology. This remote control features a rechargeable lithium battery with micro USB connectivity.

What's more, when there are several users in close proximity, it's no longer necessary to change quartz crystals to set radio frequencies. Channels are assigned automatically, facilitating interference-free simultaneous use.

An important feature of this new technology is that it no longer requires an antenna on the boat, allowing easy access even under low branches.

Thanks to these new remote controls, the transmission range can reach up to 300 meters, eliminating any risk of loss of control.

This remote control has 8 channels, allowing you to upgrade the starter boat (additional tray, diode switch, etc.).

To protect the remote control, a transparent plastic cover is supplied, enabling it to be used in the rain. It is essential never to use the remote control in the rain without this protection.

---

---
PRESENTATION OF THE ANATEC STARTER BOAT PACBOAT START'R BLACK
MAIN POINTS :

Range up to 300m
80 minutes of autonomy
Perfect for beginners
Great manoeuvrability and stability
Repairability index close to 100%.
Up to 1.5 kg of on-board primer
Can be fitted with echo sounder (sold separately)

CONTENTS OF THE BOX :

1 - Anatec PacBoat Start'R priming boat Black
1 - Charger
2 - 6V/5Ah lead-acid batteries
1 - Devict DE-SR07 remote control
1 - Grease spray
1 - Documentation in PDF



Your notice cannot be sent
Are you sure you want to report this comment?
Your report has been submitted and will be reviewed by a moderator.
Your report cannot be sent
Your comment has been registered. It will be published as soon as a moderator has approved it.
Your notice cannot be sent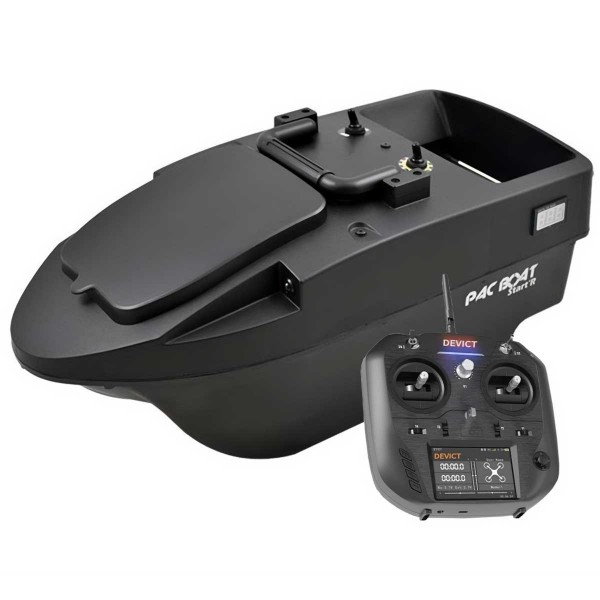 Pacboat Start'R starter boat Black + DE-SR07 remote control