1st European distributor in marine electronics since 2012
🌍 Worldwide Delivery
Back

Navigation

All makes of radar antenna

transponder AIS and accessory
The IS 2.6 generator set is designed for navigation. Equipped with an extremely reliable, 3000 rpm, water-cooled diesel engine, noise emissions are reduced by careful insulation of the hood and soundproofing of the exhaust system.
The protection against external aggressions has been particularly studied, as well as the protection of the motor and the electrical circuits against the risks of overload and overheating, with the installation of a safety shutdown system in case of malfunction.
Delivered with CBU panel GS921+ 10m cable as standard
Read more
Price before tax / DOM-TOM
7 774,92 €
Description
MASE - GENERATOR SET IS 2.6 - SPECIAL MARINE
The unit must be installed in a room with sufficient ventilation to provide combustion air. The room must be insulated to preserve the quietness of the living spaces. The engine of the generating set is cooled by an open circuit in which sea water circulates. The seawater supply circuit must be made during the installation, as well as the evacuation circuit of the water/combustion gas mixture. 
---

---

DELIVERED WITH REMOTE PANEL

The IS 2.6 marine generator set is supplied with a CBU digital control panel, complete with communication and 10m of cable:

Display current data:

Hour meter
Output voltage
Starting battery voltage
Voltage of the service batteries
Frequency
Time/date

Alarms:

High engine temperature
High generator temperature
Low oil pressure
Under battery voltage
Under and over frequency

DESIGNED TO LAST

Entirely made of Marine Aluminium, it offers a very high resistance to external agents combined with a pleasant design. With an extremely low weight (only 80kg), it offers easy access to the internal room, which facilitates maintenance operations, even if the rooms are small.

The cooling system of the generator set is provided by a heat exchanger (water/air). Its function is to reduce the temperature of the air circulating inside the soundproof box.

The air and water flows ensure efficient cooling, maintaining an optimal temperature for the performance and reliability of the generator set. The system has the advantage of guaranteeing the best operating conditions for the generator set regardless of the temperature of the installation room.

---

---
MAIN POINTS :

Weight : 80kg
Ø Gas outlet : 45mm
Max power : 2kW
Rated power: 1.7kW
Sound level 7m : 54dB (A)
Engine: YANMAR 1 cyl. 4,2CV
Ø diesel : 8mm / Ø water : 16 mm
Dimensions (LxWxH): 500x380x465 mm
Automatic shutdown of the unit with safety devices
INTERCOOLER system (sea water cooling)

CONTENTS OF THE BOX :

1 - IS 2.6 generator set
1 - Remote control panel
1 - Cable 10m
1 - Documentation in PDF








Your notice cannot be sent
Are you sure you want to report this comment?
Your report has been submitted and will be reviewed by a moderator.
Your report cannot be sent
Your comment has been registered. It will be published as soon as a moderator has approved it.
Your notice cannot be sent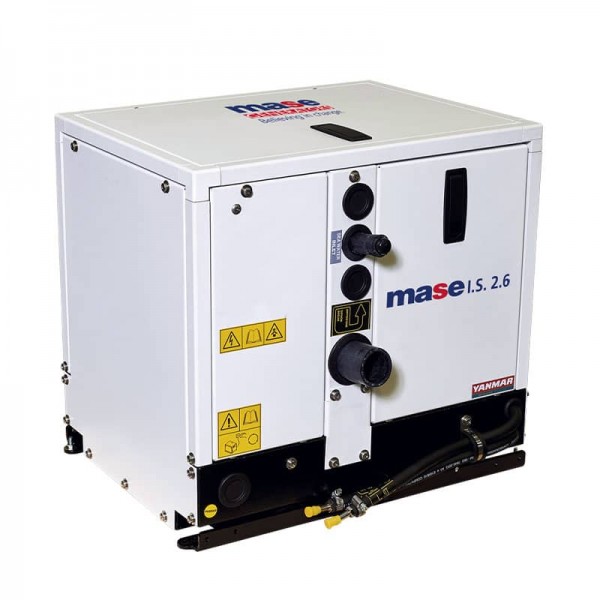 Marine generator IS 2.6 single phase 2kW