1st European distributor in marine electronics since 2012
🌍 Worldwide Delivery
Back

Navigation

All makes of radar antenna

transponder AIS and accessory
Autopilot EV-200 Sailboat

This set is designed for sailboats equipped with a mechanical helm. The pilot has a control panel with quick access buttons for better handling in all conditions. Reliable and precise, it is very easy to install and use.
Read more
Features
Price before tax / DOM-TOM
2 033,25 €
Features
Type of product

Car driver. Sailboat

Type of mounting

On bar area

Suitable for boats

Less than 10m, From 10m to 12m
Description
RAYMARINE - EV-200 SAILBOAT - YOUR INDISPENSABLE CREW MEMBER
The Evolution pilot provides easy self-control of your boat, with no special calibration required. Thanks to the intelligent EV sensor, this sailboat autopilot monitors all boat movements in all directions and adjusts the controller automatically according to the sea conditions, without the need for the user to do anything else.
---

---

CONTROL PANEL p70s

The p70s features an anti-glare, ultra-bright 3.5" LCD screen. The latest LED backlighting technology enhances color and contrast while being energy efficient.

Raymarine's p70s has +/- 1° to +/-10° buttons for easier selection of the course to steer. The interface is simpler and gives you quick access to all the information.

---

---

THE EV-1 CENTRAL SENSOR

The EV-1 sensor is the center of the EV-200 autopilot. With its 9-axis compass, the device monitors the ship's movements in all three dimensions.

The accuracy of the EV-1 is less than 2 degrees due to its internal technology, regardless of the navigation conditions. It has permanent control of heading, pitch, roll and yaw.

Depending on the weather conditions, it will then allow the autopilot to instantly take into account the navigation conditions. It automatically compensates for the ship's magnetic fields.

The EV-1 sensor can be installed anywhere. On or under the deck, its housing is totally sealed and protects all internal components.

---

---

ACU-200 CONTROL UNIT

The ACU-200 autopilot computer provides reliable power to the power unit and the SeaTalkNG system.

The included rudder angle sensor provides information about the rudder position and improves steering performance. Connect your angle sensor to your ACU-200 power unit.

Thanks to its reliability and performance, the rudder angle sensor guarantees precise and safe navigation.

---

---

PACK WITH LINEAR ACTUATOR T1 12V

This Raymarine Type 1 12V mechanical linear actuator has a maximum torque of 295kg. It is recommended for sailboats up to 11T in maximum displacement. The Raymarine mechanical linear actuator offers powerful thrust and quiet operation.

Maximum stroke: 300mm

Time from stop to stop: 735nm

Power consumption:

18 to 36 W

This cylinder is available in the T70158 pack version.

---

---

SEATALK NG WIRING KIT

This kit includes the following items:

2 - SeaTalk Terminations
2 - SeaTalk T-connectors
1 - Power cable (0,4m)
1 - SeaTalk main cable (5 m)
1 - SeaTalk branch cable (0.4m)
1 - SeaTalk 5-pin connector block

---

---
Warning:
Always consider the total displacement of the fully loaded boat. This weight is often 20% higher than the displacement of the light boat. Therefore, be careful not to select a pilot who will always work at the limit of his possibilities. If you select your pilot with safety in mind, he will remain operational in bad weather.
MAIN POINTS :

Easy to install
Accuracy less than 2°.
Consumption: 300mA
Power supply: 12 - 24Vdc
Permanent and precise control of the course





CONTENTS OF THE BOX :

1 - ACU-200 computer
1 - Evolution EV-1 sensor
1 - Seatalk NG wiring kit
1 - Control panel p70s
1 - Rudder angle sensor with 10m cable
1 - T1 linear actuator (depending on package)
1 - Documentation in PDF
Your notice cannot be sent
Are you sure you want to report this comment?
Your report has been submitted and will be reviewed by a moderator.
Your report cannot be sent
Your comment has been registered. It will be published as soon as a moderator has approved it.
Your notice cannot be sent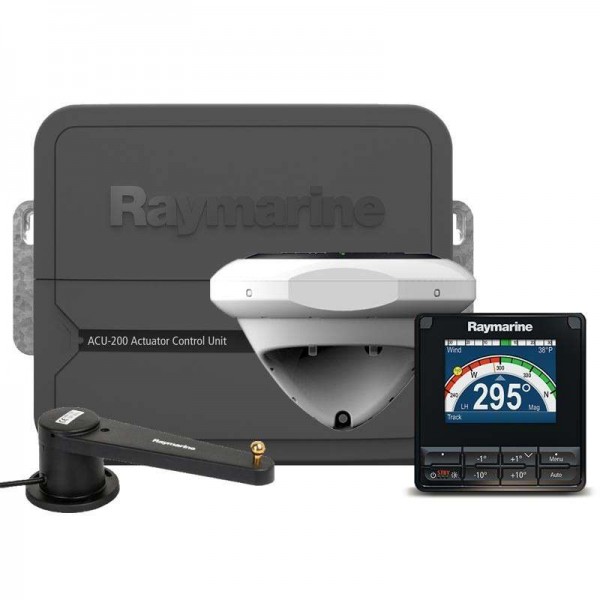 Autopilot EV-200 Sailboat