1st European distributor in marine electronics since 2012
🌍 Worldwide Delivery
Back

Navigation

All makes of radar antenna

transponder AIS and accessory
The Magnum 10 STX winch is a great asset for trolling, with a longer, telescoping arm that makes it easy to use. The electric operation ensures precision and control of the lure. It is equipped with 70m of cable with a resistance of 70kg.
Read more
Price before tax / DOM-TOM
965,75 €
Description
CANNON - MAGNUM 10 STX - FRESHWATER WINCH FOR SPORT FISHING
This winch model is equipped with the famous "positive ion control" system. The creation of this type of effect around the cable is really effective and allows a significant increase in fishing results. The Positive Ion Control system maintains a positive ion field around the cable that fights the negative ions present on the boat.
This winch also has a short stop system. This system automatically stops the line when the ballast reaches the winch spool. This means you can concentrate on fishing without worrying about the ballast rising and causing damage without this control.
---

---

RELIABLE AND EFFICIENT

A 3-digit depth meter in meters
Short Stop : Automatic stop of the cable at the end of the ascent
Quick disassembly: Ergonomics for easy change of coils and parts
Positive ion control: Emits a continuous positive ion field around the cable. This function allows a significant increase in fishing results.

---

---

UNI-LINE NUT

With this clamp, you can adjust the tension from 1 to 10 kg by rotating wheel. You can use it with any line, in fresh or salt water.

The clamp is attached both to the ballast, in a fixed manner, and to the fishing line, which it must release when the auto release system is activated by the pull of a catch at the bottom of the line.

---

---
MAIN POINTS :

Resistance of 70 kg
Corrosion resistant
Positive Ion Control System
2-axis swivel cane holder
3 digit depth gauge in meters
Fast cable lift (75m/minute)
Automatic stop of the cable at the end of the ascent
Mounting with quick release base on 360° rotating plate

CONTENTS OF THE BOX :

1 - Winch MAGNUM 10 STX
1 - 70m stainless steel cable
1 - Trigger clip
1 - Single swivel cane holder 2 axes
1 - Documentation in PDF





Your notice cannot be sent
Êtes-vous certain de vouloir signaler ce commentaire ?
Your report has been submitted and will be reviewed by a moderator.
Your report cannot be sent
Your comment has been registered. It will be published as soon as a moderator has approved it.
Your notice cannot be sent
from
2 558,90 €
2 699,00 €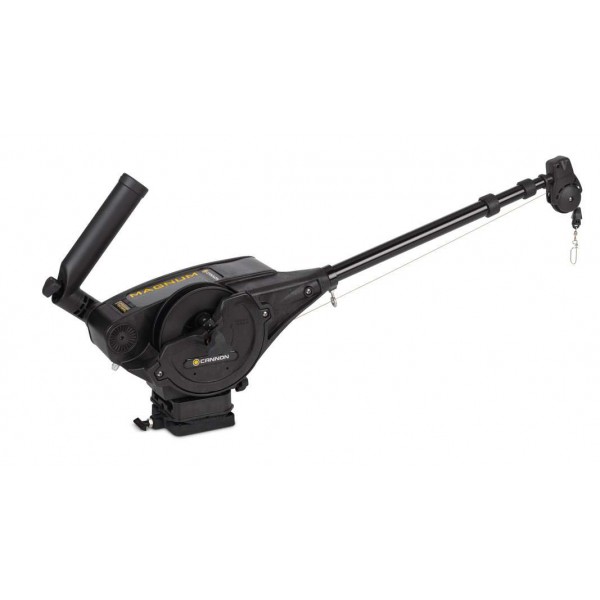 Magnum 10 STX electric winch