I) Battery problems
II) Maintenance of the propeller
III) Washing of the electric motor
IV) Lubrication of the electric motor
V) Mounting of the electric motor
VI) Storage of the electric motor
VII) Wiring
Tips and tricks for the maintenance of your engine
Your Minn Kota electric motor is an essential tool on your boat. It's regularly subjected to intensive use, can sustain shocks: stumps, rocks, docks... and often runs for hours on end.
Whatever your Minn Kota electric motor model, regular maintenance is the key to extending its life and maintaining the performance of your equipment, so you can continue to enjoy it for a long time to come.
You will discover in this small guide what are the most frequent breakdowns of your electric motor, how to disassemble and clean your geostationary motor and tips and tricks to keep your motor in good condition throughout its use.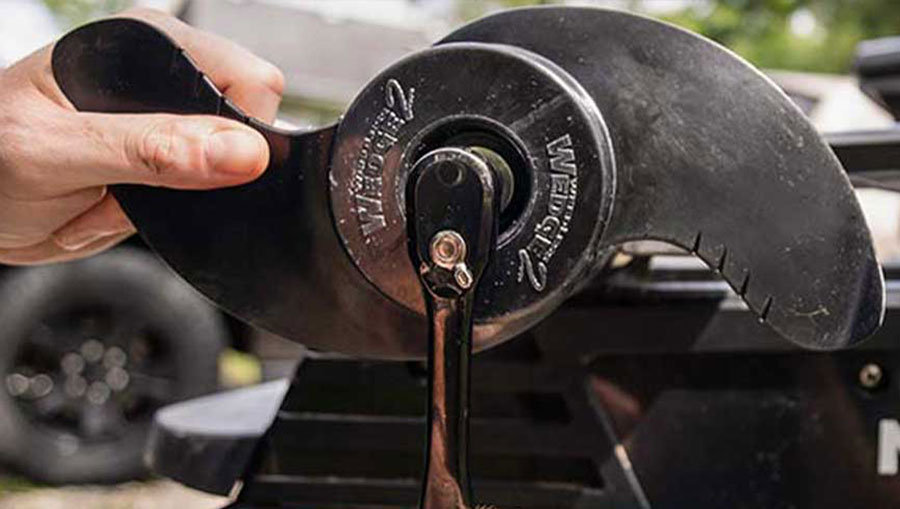 I) Battery problems
II) Maintenance of the propeller
III) Washing of the electric motor
IV) Lubrication of the electric motor
V) Mounting of the electric motor
VI) Storage of the electric motor
VII) Wiring
TIPS AND TRICKS FOR THE MAINTENANCE OF YOUR ENGINE
Your Minn Kota electric motor is an essential tool on your boat. It's regularly subjected to heavy use, can take a beating from stumps, rocks, docks, and often runs for hours.

With regular maintenance, you can extend the life and maintain the performance of your equipment so you can continue to enjoy it for a long time.

In this short guide, you will discover the most common breakdowns of your electric motor, how to disassemble and clean your geostationary motor and tips and tricks to keep your motor in good condition throughout its use.
What is a front electric motor?
forward or geostationary electric motor
A Minn Kota geostationary electric bow motor or trolling motor is a type of electric motor for boats which is attached to the bow of the boat and used to propel it through the water. This type of motor can be installed on many types of boat, including motorboats, fishing boats and bass boats. 
The "geostationary" feature means that the motor is designed to maintain a fixed position, even when currents or winds change. This means that the motor can maintain your position on the water without you having to constantly adjust the motor. This system is particularly useful for fishing, as it allows you to stay on a precise spot and target the fish there.
The Minn Kota geostationary electric front motor can be controlled in a number of different ways, depending on the model and functionality. In general, it is equipped with a wireless remote control.
To operate the motor, you can adjust its speed and direction using the available controls. Most models feature a speed and direction control system with buttons, or wired or wireless pedals. To find out more about electric motors, and make the right choice, consult our electric motor buyer's guide. To find out about maintenance, common breakdowns and care, read on!

CHECK BATTERY CONNECTIONS
Poor battery connections are one of the most common sources of motor problems.
All Minn Kota motors require a dedicated connection for efficient operation, whether 12 volt or 24 volt. While this won't necessarily prolong the life of your motor, checking the connections prevents unwanted problems during your time on the water. 
First and foremost, you need to know that a motor requires a battery specifically for marine use, and of sufficient power to keep your electric motor and other equipment running throughout the session. The batteries most commonly used to power electric motors are lead-acid batteries, but there are also lighter, more durable options, such as lithium-ion batteries. Most Minn Kota motors operate on 12, 24 or 36 volts. It's important to choose a battery with the same voltage as your motor.
Amperage, on the other hand, measures the amount of electricity the battery can supply over a given period. Batteries often have a capacity expressed in ampere-hours (Ah). The higher the capacity, the more electricity the battery can supply over a longer period. You'll find all types of batteries on our Comptoir Nautique website.
To maintain your battery, we advise you to check the battery terminals and wires for corrosion before each trip. Clean them quickly with fine sandpaper or a cloth, and replace corroded wires if necessary.
Once cleaned, it is advisable to generously grease the connections with silicone grease.
It is also important to check all additional connection points.
The thermal circuit breaker.
The quick release plug.
It is necessary to do these checks approximately every 3 to 4 outings to ensure the longevity of the installation.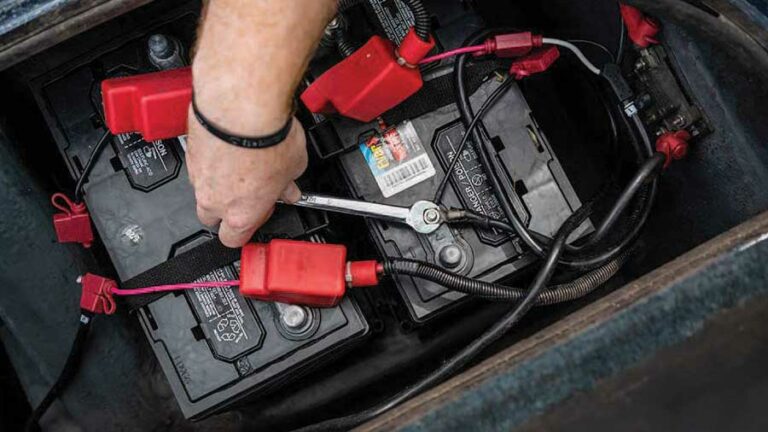 OPTIMAL CHARGING OF MOTOR BATTERIES
The electrical system, consisting of one or more batteries, is the key element in the operation of your Minn Kota electric motor. For optimum motor performance and autonomy on the water, it's vital to recharge the batteries as soon as possible and after each use. It is therefore essential to fully charge the battery before use.
The best batteries and chargers for Minn Kota electric motor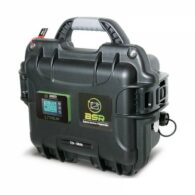 LifePo4 Gen2 lithium case
These lithium batteries are packaged in an IP67 waterproof carrying case. Developed for intensive use in navigation, they will perfectly power your electric motor.
An LED display shows the battery temperature, voltage, charge rate and low voltage alarm.
New: Gen2 (2ᵉ generation) lithium battery cases also feature a discharge indicator.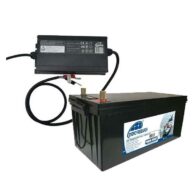 Lithium battery pack for geostationary electric motor. With 2000 cycles at 100% discharge, they will provide power for many hours.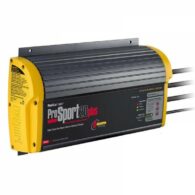 ProSport 20 Plus Battery Charger
The ProSport 20 plus PFC onboard marine battery charger incorporates a fully digital microprocessor control.
The ProSport series provides automatic installation feedback with its "System Check OK" and "Battery Bank Trouble" LED indicators.
Maintenance of the propeller
CHECKING AND CLEANING THE PROPELLER SHAFT
During use, it frequently happens that fishing line (braid or nylon), algae and other matter, get behind the motor propeller. 
It is imperative to dismantle this one very regularly and to remove the various elements present in order to preserve the seal of propeller shaft.
Unplug the power supply, remove your propeller, and remove all vegetation and wires that have been wrapped around the propeller shaft of the Minn Kota motor.
Clear and clean as needed during the run. Remove the propeller and inspect the propeller shaft after a few uses - it only takes a minute. 
During assembly, take care to tighten the propeller and motor components to avoid vibration.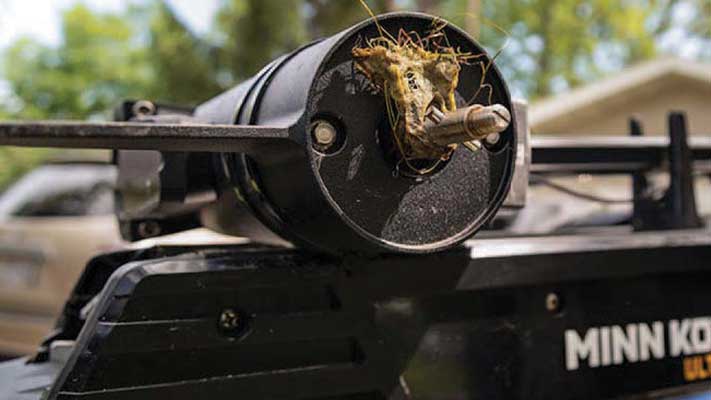 PROPELLER PIN REMOVAL AND INSPECTION
While your propeller is being disassembled, take the opportunity to check the propeller pin for wear or bending. If the pin is bent or damaged, replace it with a genuine Minn Kota pin. This is a check that should be performed 2-4 times a year or more depending on how often you fish.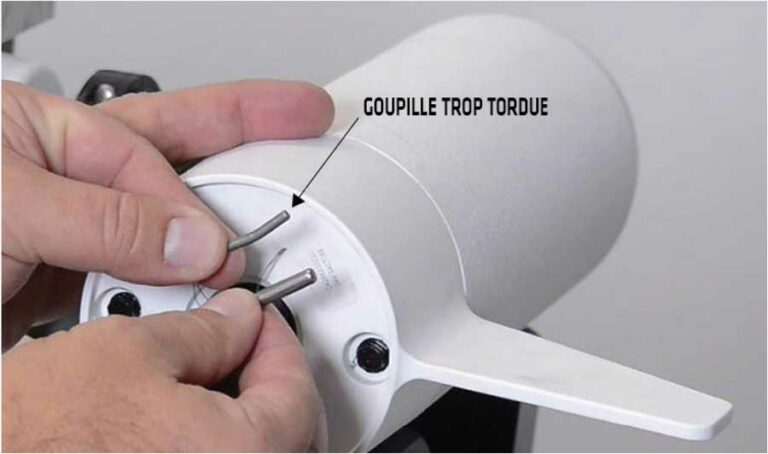 Checking and maintenance of the anti grass propeller
After an impact, the leading edge of your propeller may be damaged.
If this happens, you can smooth out the supporting blades by sanding them with very fine sandpaper. 
If the propeller is too damaged, it is important to replace it. 
This manipulation is to be done once a year or after a shock (rock, branch, bottom ...)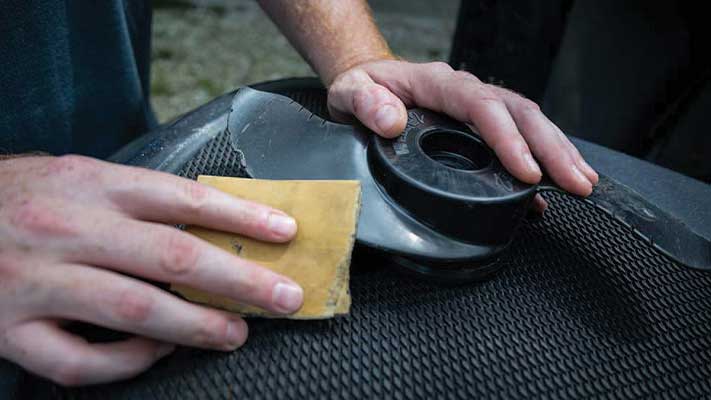 Washing of the electric motor
clean your electric motor with fresh water
Rinse your entire Minn Kota motor with clear water to remove any dirt accumulated during your fishing trip (ideally after each use). Avoid using household cleaning products. A simple rinse is sufficient for this type of product.
clean its electric motor sea (riptide)
Just as important as washing your boat, it is also important to rinse your electric motor with fresh water after each use and trip in a saltwater environment.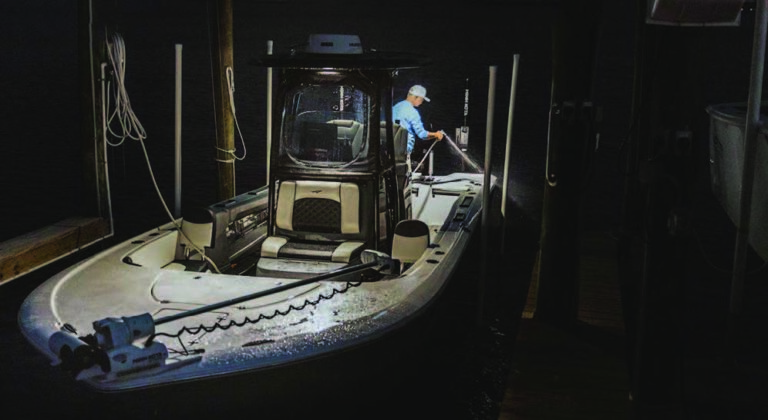 lubrication of the electric motor
lubricate your electric motor
Remember to properly lubricate your motor shaft! This can be done after cleaning your motor with water and a mild soap solution.
Using a can of water-based lubricant, apply a small amount to a soft cloth, then wipe the composite motor shaft.
This lubrication helps to ensure smooth deployment and docking of your engine, especially on Ulterra engines.
- Make sure the spray you choose is water-based and NOT oil-based!
Remember to lubricate the motor shaft:
Minn Kota fresh water every 3 or 4 uses. 
Minn Kota Riptide (salt water) after each use.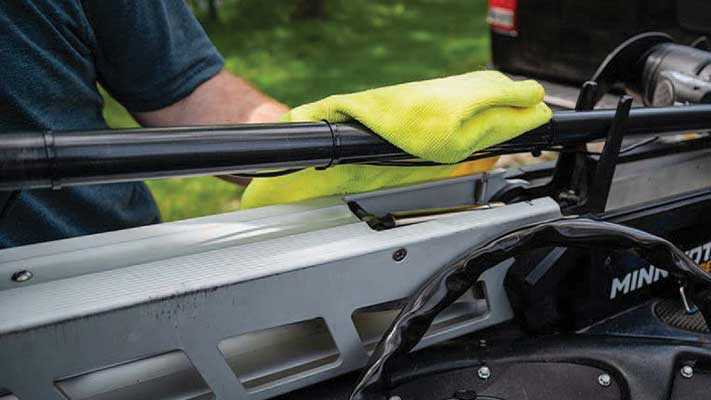 Fixing of the electric motor
CHECK THE TIGHTNESS OF THE FIXING BOLTS
Vibration is the worst enemy of most marine equipment, and when mounting bolts loosen or a sway bar doesn't sit well on the boat deck, moving parts of the engine can suffer serious damage, especially when used on rough water.
Tighten the bolts and fasteners before and after each use.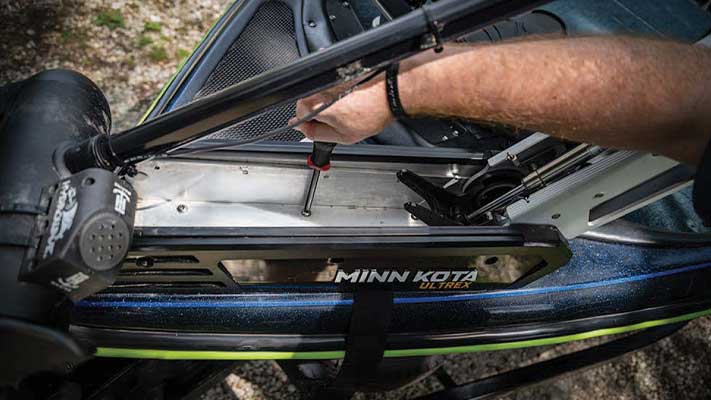 Storage of the electric motor
PREPARATION FOR EXTENDED STORAGE
How to store your electric motor?
Clean all metal parts of the Minn Kota motor with a soft cloth and WD40.
Disconnect the electric motor from its power source/battery before storing.
Generously grease the various sockets with silicone grease.
Store your engine in a dry place.
It is strongly recommended to connect the batteries to an intelligent on-board battery charger.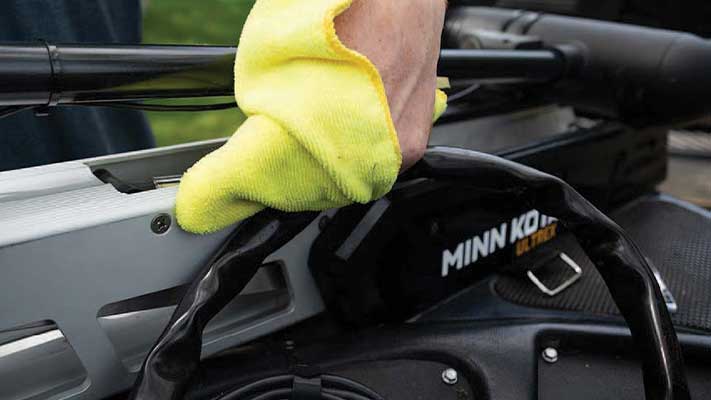 Inspection and management of motor wiring
ELECTRIC MOTOR CABLE MANAGEMENT
Using zip ties and/or stretchy braided sleeving is an easy and inexpensive way to store and secure any cables you may have near your front engine. 
When installing the Minn Kota front motor, you must consider the length of the power cables as well as the routing of the sensor and/or network cables built into the motor. 
If these cables are not attached, they can become trapped inside the bracket and may be pinched or even cut. This should be done when installing the motor on the boat to ensure that the cables are free of pinching. It is necessary to systematically inspect the cables at each use.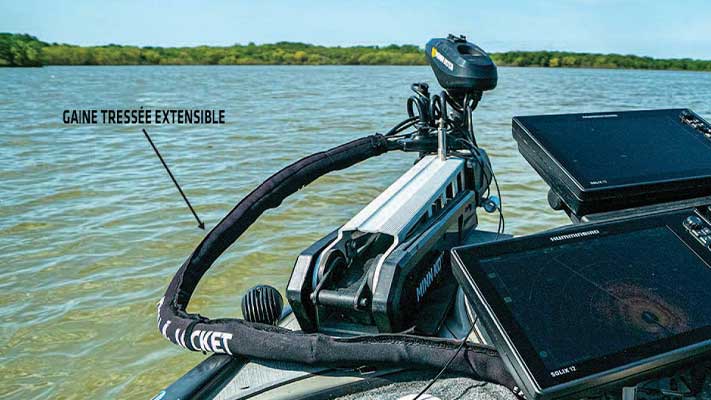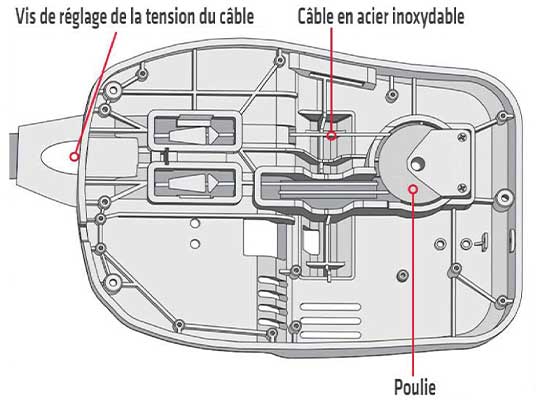 Inspection of the steering cable
The steering cable tension is preset at the factory, but in normal use it may need to be adjusted from time to time to ensure the proper "feel" when changing direction, especially for Ultrex, Fortrex, Maxxum and Edge models. 
Adjust the tension by turning the cable tension adjustment screw (Phillips head screw) located at the bottom of the pedal, just below the steering cable cover. 

Turn the screw clockwise to increase the tension and counterclockwise to decrease the tension. 
À Do this as soon as the first signs of change in pedal tension or responsiveness appear.