1st European distributor in marine electronics since 2012
🌍 Worldwide Delivery
Back

Navigation

All makes of radar antenna

transponder AIS and accessory
The Phoenix Smart IP43 12V battery charger is ideal for charging three battery banks with a voltage of 12V each.
Your batteries must have a capacity greater than or equal to 250Ah. The SMART version allows, by a bluetooth connection, to monitor the charge of your batteries.
Read more
Features
Price excl. VAT / DOM-TOM
450,75 €
Description
VICTRON ENERGY - PHOENIX SMART - THE INTELLIGENT CHARGER
The Phoenix Smart IP43 battery charger equipped with a microprocessor and the "adaptive" function manages the duration of each charging stage (Bulk - Absorption - Float - Standby) by automatically adapting to the initial state of discharge of the battery. This connected charger is compatible with : AGM, GEL, Lithium, Starter.
Phoenix Smart 3-outlet chargers allow each output to supply the full rated output current. But the total of the three outputs combined can never exceed the charger's rated current. 
---

---

EFFICIENT AND CONNECTED

The Bluetooth Smart feature allows you to monitor the state of charge of your battery from your tablet or smartphone. This wireless mode allows you to monitor the voltage and current of your battery. But also to change the settings and perform updates of the possible features of your IP43 charger.

The sleep mode is activated when the battery is not used for 24 hours. In order to minimize gassing and corrosion of the positive plates, the charger will decrease the voltage per cell.

To avoid premature aging of the batteries, the voltage is read weekly, which prevents stratification of the electrolyte and sulfation of the battery.

---

---
How to choose your Phoenix Smart Charger
12V - 30A
12V - 50A
Input voltage
230 VAC (range: 210 - 250 V)
Performance
94%
92%
Programming
Bluetooth and/or VE.Direct
Battery connection
16 mm² screw terminals
Weight
3,5 kg
Dimensions
180 x 249 x 100 mm
MAIN POINTS

Weight : 3,5 kg
Dimensions: 180 x 249 x 100 mm
Battery connection: screw terminal
Automatic continuous feed function
Recovery of completely discharged batteries.
Automatic compensation for high or low temperature
Low power mode for charging smaller batteries





CONTENTS OF THE BOX

1 - Phoenix Smart 12V charger (depending on model)
1 - IEC 320 C14 socket
1 - Documentation in PDF

Cable to battery not included

AC power cable not included





Your notice cannot be sent
Are you sure you want to report this comment?
Your report has been submitted and will be reviewed by a moderator.
Your report cannot be sent
Your comment has been registered. It will be published as soon as a moderator has approved it.
Your notice cannot be sent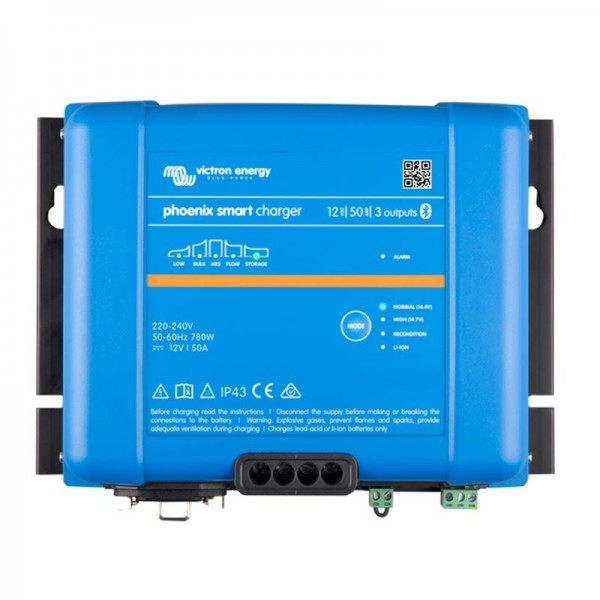 Phoenix Smart IP43 12V charger - 3 outputs