1st European distributor in marine electronics since 2012
🌍 Worldwide Delivery
Back

Navigation

All makes of radar antenna

transponder AIS and accessory
Description
VICTRON ENERGY - PHOENIX COMPACT - HIGH EFFICIENCY
This larger Phoenix converter model is equipped with a VE.Bus port. Using theVictronConnect application or the VEConfigure software, all converter parameters can be customized.
It is therefore possible to configure the output voltage and frequency, the overvoltage and undervoltage thresholds, and to program the relay.
This relay can be used to signal several alarm conditions or to start a generator.
The converters can also be connected to a GX device for monitoring and control purposes.
How to choose your Phoenix Compact Converter
12V - 1200VA
12V-1600VA
12V-2000VA
Converter power at 25°C (W)
1000
1300
1600
Converter power at 40°C (W)
900
1200
1450
Converter power at 60°C (W)
600
800
1000
Peak power (W)
2400
3000
4000
Remote on/off switch
Yes
Battery-connection
1.5m battery cables included
M8 nuts
Weight
10 kg
12 kg
Dimensions
375 x 214 x 110 mm
525 x 255 x 125 mm
Your notice cannot be sent
Are you sure you want to report this comment?
Your report has been submitted and will be reviewed by a moderator.
Your report cannot be sent
Your comment has been registered. It will be published as soon as a moderator has approved it.
Your notice cannot be sent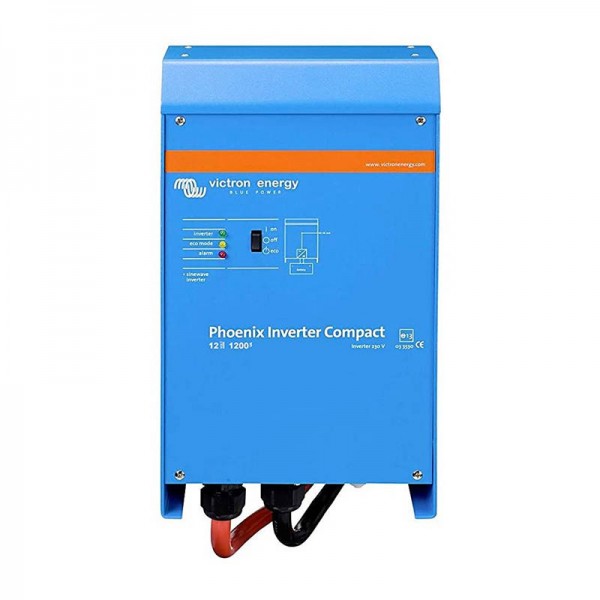 Phoenix Compact converter