1st European distributor in marine electronics since 2012
🌍 Worldwide Delivery
Back

Navigation

All makes of radar antenna

transponder AIS and accessory
Fishfinder Striker Vivid 9 SV

The Garmin Striker Vivid 9sv is a GPS position finder with a 9" display. It features traditional CHIRP, ClearVü CHIRP and SideVü CHIRP sonar functions for better contrast and definition. You can customize the colors for better target viewing.
Read more
Features
Price before tax / DOM-TOM
516,58 €
Features
Screen size

9"

Sounder technology

2D + Down + Side Imaging

Our opinion

★★★★★

Range

Striker

Power Sounder

500w

Fishing area

Intermediate bottom

GPS positioner function

Yes

Type of product

GPS sounder
Description
GARMIN - STRIKER VIVID 9 SV - FISHERMAN'S FAVORITE FISHFINDER
The most talented fishfinder of its generation! The Striker Vivid 9SV differs from the Striker Plus 9SV in that it comes in 7 new color palettes. Incorporating a high-precision GPS antenna, this Striker Vivid 9SV echo sounder allows you to create fishing points, record tracks, and even make your own maps with bathymetric readings. It has of course the different sounder technologies according to the selected probe: 2D Traditional CHIRP / ClearVü Mode CHIRP / SideVü Sweep CHIRP.
---

---

EASY TO USE

The Striker Vivid 9sv is easy to install. It connects to its power supply and to the probe with quick connectors.

Its bright and sunny 9" screen of 800 x 480 pixels allows a great readability in all conditions.

In addition, the Striker Vivid 9sv allows you to quickly find your fishing spots thanks to the integrated high sensitivity GPS antenna.

---

---

TRADITIONAL 2D SOUNDER CHIRP

The Striker Vivid 9sv provides ideal detection down to a depth of 240m (manufacturer's data) thanks to its high-frequency CHIRP coverage on a wider beam than usual.

The CHIRP technology allows:

Denser information and sharper images in high resolution
Better target separation and sharper rendering of fish arches
Improved bottom tracking and fish detection even at high speed

---

---

CLEARVÜ TECHNOLOGY

ClearVü technology is the most powerful on the market. It provides clear, high-quality, near-photographic images of everything below the water's surface. You'll be able to see structures, fish and submerged objects with pinpoint accuracy.

See thermoclines: boundary between water layers and oxygen-rich zones.
Identify the fish: no room for interpretation, it identifies clearly.
Reveal the structures: wrecks, vegetation, bridge pillars, dead bodies...

Not available on the 2D probe version

---

---

SIDEVÜ TECHNOLOGY

SideVü technology lets you see what's happening on both sides of the boat. You'll be able to spot structures and especially fish. It's accurate with a very detailed, high-resolution image.


This feature allows you to locate fishing areas more quickly with an extremely wide 180° scan field.

Not available on the 2D probe version

---

---

QUICKDRAW CONTOURS FUNCTION

The Quickdraw Contours software creates your fishing maps in HD in real time. Make your own maps without having any special knowledge, it is now possible.

With the Striker Vivid 9sv, you can store the equivalent of 8,000 km² of Quickdraw Contour maps with bathymetric contours represented every 30 cm.

Download maps or share your own by connecting via WI-FI to the free ActiveCaptain app. Receive on-screen notifications of new updates to your echo sounder via the app.

---

---

CLEAR AND COLORED SONAR

Choose from 7 new bright color options to see fish and structure with maximum contrast and clarity on your 9-inch sonar.

---

---
Which STRIKER suits you best?
MAIN POINTS :

9'' screen

Power

500W

800 x 480 pixels

2 years manufacturer's warranty
Quickdraw™ Contours feature
Frequencies 77/200/455/800 KHz
2D, ClearVü and SideVü function (depending on model)

CONTENTS OF THE BOX :

1 - Striker Vivid 9sv
1 - Installation kit
1 - Probe (depending on model)
1 - Power/data cable
1 - Tilting stirrup
1 - 12 pin to 2x4 pin adapter
1 - Documentation in PDF
Your notice cannot be sent
Are you sure you want to report this comment?
Your report has been submitted and will be reviewed by a moderator.
Your report cannot be sent
Your comment has been registered. It will be published as soon as a moderator has approved it.
Your notice cannot be sent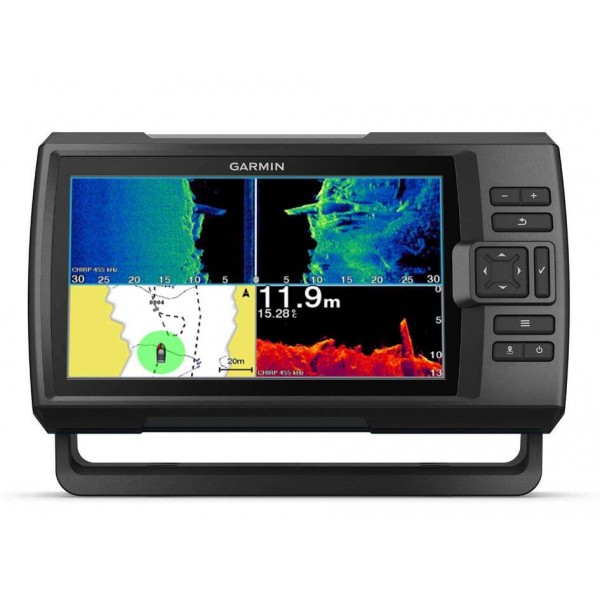 Fishfinder Striker Vivid 9 SV
Select your accessories and/or warranty extension with your
Striker Vivid 9
SV depth sounder
.