1st European distributor in marine electronics since 2012
🌍 Worldwide Delivery
Back

Navigation

All makes of radar antenna

transponder AIS and accessory
This Fun Dinghy and Suzuki DF2.5S or DF4S motor pack offers a perfectly adapted combination to make the most of your boat. This combination is particularly well suited to fast sailing, it is very stable, takes up very little space and will fit easily on your boat. It also offers a practical and compact solution for winter storage.
Read more
Price before tax / DOM-TOM
1 808,25 €
Description
PLASTIMO - ANNEX FUN + SUZUKI DF2.5S or DF4S ENGINE - STABILITY AND LIGHTNESS
With its inflatable V-shaped hull and flaps, the Fun dinghy is designed for fast motoring, while maintaining great stability. It ismade of 1100 Decitex heat-sealed PVC, which provides rigidity without deformation, excellent marine behavior and reduced weight. Once stored in its bag, it is compact and easy to move.
The Suzuki DF2.5S and DF4S engines with short shaft are perfectly adapted to this type of light tender. Accessible without a license, they are easy to maintain, consume little and are easily stored. 
---

---

FUN DINGHY - DESIGNED FOR MOTORIZED SAILING

Particularly stable, the Fun dinghy is specifically designed for motor sailing. Its inflatable V-shaped hull and its flaps at the back facilitate the lifting and increase the stability. It is ideal for quick trips.

 

Inflatable V-shaped hull giving it excellent sailing qualities.
Flaps in the back for increased flotation and stability.
Heat-welded PVC construction and 1100 Decitex fabric resistant to abrasion, UV rays and high inflation pressures.
Aluminium swimming bench.
Stores in its carry bag.

---

---

CLEAN, EASY-TO-MAINTAIN, LIGHTWEIGHT ENGINES

The Suzuki DF2.5S 2.5 CV and DF4S 4 CV short shaft outboard engines are perfectly suited to these tenders. They are very easy to maintain, economical and easy to manoeuvre.

4-stroke engine
68 cm³ (2.5 CV) or 138 cm³ (4 CV)
2 valves
Carburetor
Max power 1.8 kW (2.5 CV) or 2.9 kW (4 CV)
Manual start
Fuel tank capacity 1 liter
Direction tiller

 

Very easy to store, you can store it on one of the 3 sides during winter.
TECHNICAL SPECIFICATIONS
Model Annex

Model Engine

Capacity

Dimensions HT

Motor power

Pi230VB
DF2.5S
2,5 people /380 kg
232 x 135 x 65 cm
1.9 kW(2.5 CV)
Pi270VB
DF2.5S
3.5 people/664 kg
218 x 137 x 46 cm
1.9 kW(2.5 CV)
Pi270VB
DF4S
3.5 people/664 kg
218 x 137 x 46 cm

2.9 kW (

4 CV

)

Pi320VB
DF2.5S
4 persons /736 kg
240 x 143 x 51 cm
1.9 kW(2.5 CV)
Pi320VB
DF4S
4 persons /736 kg
240 x 143 x 51 cm
2.9 kW(4 CV)
MAIN POINTS :

Stability
Can be driven without a license
Designed for the engine
Rigid, stable and light
Available in 3 sizes
Easy to maintain engine
Excellent marine behavior
Available in 2 engine powers
Abrasion, UV and salt resistant fabric

CONTENTS:

1 - Annex Fun (size according to model)
1 - Suzuki DF2,5S or DF4S engine (depending on model)
2 - Paddles
1 - Inflator
1 - Repair Kit
1 - Propeller
1 - Tank connection socket
1 - Fresh water rinse system
1 - Documentation in PDF
Your notice cannot be sent
Are you sure you want to report this comment?
Your report has been submitted and will be reviewed by a moderator.
Your report cannot be sent
Your comment has been registered. It will be published as soon as a moderator has approved it.
Your notice cannot be sent
from
1 649,90 €
1 749,71 €
from
1 779,90 €
1 887,65 €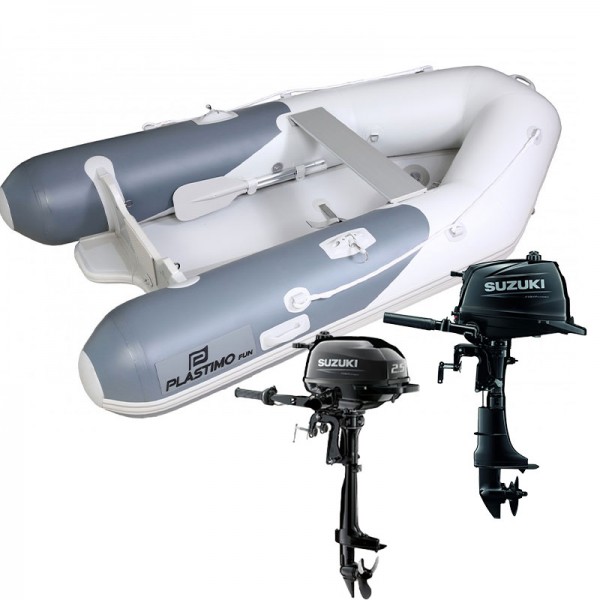 Pack annex Fun + Suzuki engine