1st European distributor in marine electronics since 2012
🌍 Worldwide Delivery
Back

Navigation

All makes of radar antenna

transponder AIS and accessory
The Sleipner Side-Power SE170 electric bow thruster is a high power thruster with a 250 mm diameter tunnel. It will fit boats from 15 to 22 m. With its 170-285 kg of thrust, you get a reliable and powerful thruster.
Technical information:
Design and manufacturing focused on performance, reliability, ease of use and safety
Easy to assemble
Pre-wired bundles, ready to connect
Child safety
Automatic shutdown of the control unit after use
Protection by reverse thrust delay
Thermal protection integrated in the motor
IPC power relay protection system
Protection against prolonged operation: max. operating time 3 min, on/off control.
Voltage 24V
Read more
Features
Price before tax / DOM-TOM
3 599,92 €
Features
Voltage

24V

Size of the boat

From 10 to 20 m, From 20 to 30 m

Max thrust (in kg)

210 kg

Tunnel diameter

Ø 250 mm

Power (kW)

8.8 kW
Description
High power electric thruster for 15 to 22 meters vessels, with 170 to 210 kg of thrust.
Model: SE170
Voltage: 12*/24V
Output power : 8.8 kW / 11.8 Hp
Thrust at 24V: 210kg
Thrust at 21V : 170kg
A Ø tunnel : 250 mm
B : 423 mm
C min : 250 mm
D : 300 mm
E min : 7 mm
E max : 10 mm
Motor at 21V: 8 kW
Weight : 44 kg
Minimum battery capacity in CCA: In 24V (DIN - SAE): 560 - 1065
* For use in 12V, provide a 12V-24V coupling box and an additional 12V battery.
IPC (Intelligent Power Control) system
Improves the reliability and safety of the thrusters. If the relay is blocked during operation, the thruster is automatically stopped.
Gravity Feed Lubrication : Lubrication under load
On higher models, lubrication is provided by a small tank. Located above the waterline. This loading prevents water from entering the tank, allows the level to be seen and facilitates oil replacement.
TC Twin Counter : Counter-rotation
Two counter-rotating propellers provide maximum thrust, while maintaining good performance relative to the diameter. This type of propeller is used for the largest thrusters to obtain maximum power.
Q-PROP propellers
5-blade propellers with asymmetric profile (skew). These new propellers provide a thrust gain of about 5% while reducing the noise level
Download
SE & SE-IP thruster manual
SE and SE-IP Sleipner Explosion Proof Electric Bow Thruster User's Manual
Download (933.76k)
SE170 & SE210 thruster manual
SE170 and SE210 Sleipner Electric Bow Thruster User's Manual
Download (858.88k)
Your notice cannot be sent
Are you sure you want to report this comment?
Your report has been submitted and will be reviewed by a moderator.
Your report cannot be sent
Your comment has been registered. It will be published as soon as a moderator has approved it.
Your notice cannot be sent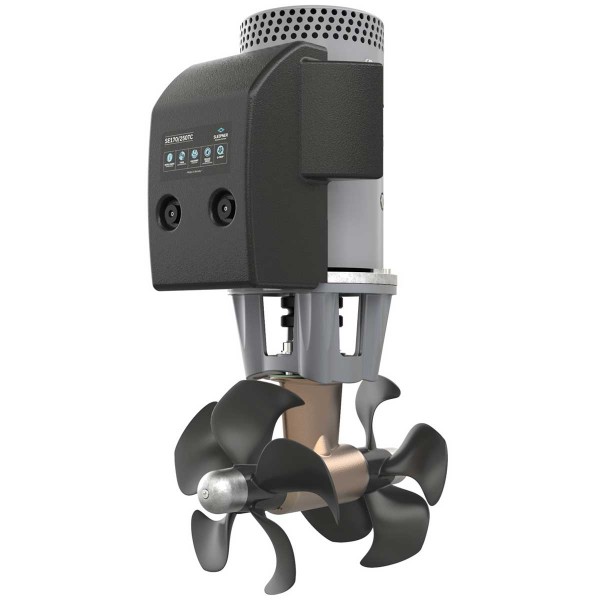 Electric bow thruster SE170 / Ø 250 mm